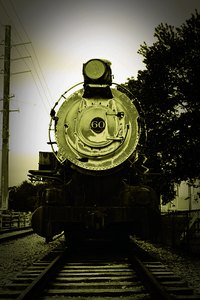 Union Pacific rail employees follow general rules outlined in federal regulations by the Federal Railroad Administration (FRA) and corporation-specific guidelines.
Intro to GCOR
All Class 1 and short-line railroads follow rules outlined in the General Code of Operating Rules, which detail regulations for transportation, engineering and mechanical departments for both freight and passenger companies. Selected rules outline blue flag usage, mechanical inspections, hand and radio signals, movement of trains, and engines and switch operation. New hires study the GCOR manual and rules unique to Union Pacific (UP) during training.
How the Competition Differs
Union Pacific differs from other Class 1 railroads by requiring employees and contractors to wear lime-green vests while around tracks both in the train yard and off. Because of this standardization, many employees choose to wear similar-colored polo shirts to avoid the hassle of a vest. Other Class 1 railroads and many short lines require an orange vest and/or belt while on railroad property.
Considerations
Federal and railroad-specific regulations change constantly to address issues as they arise to protect both the employee and the company. Such regulation includes the 2009 FRA ban on electronic devices such as cell phones while on duty and track clearance specifications to protect trainmen from rail traffic.
UP Careers
Union Pacific career tracks aid in GCOR and UP-specific regulations. Track crews, electrical and signal workers and mobile gangs who travel the system to work on specific projects collectively make up the Engineering Department and focus on flag rules and track clearances to protect employees. Conductors and locomotive engineers, as part of the Transportation Department, safely operate trains within eight-hour work windows while taking other GCOR rules into consideration. The Mechanical Department performs routine inspections and necessary repair to both locomotives and train cars while employing personal protection equipment such as gloves, ear plugs and hard hats.
About the UP
Union Pacific incorporated on July 1, 1862, marrying track rights from predecessor railroads Chicago & North Western Railroad, Missouri-Kansas-Texas Railroad, Missouri Pacific Railroad, Denver & Rio Grande Western Railroad, Southern Pacific Railroad and Western Pacific Railroad. Union Pacific owns and operates more than 36,000 track miles in 23 states.