Beer itself doesn't contain any cholesterol. It may, however, affect your blood cholesterol and triglyceride levels. This doesn't mean you should start drinking lots of beer because too much of any type of alcohol, including beer, can have adverse effects.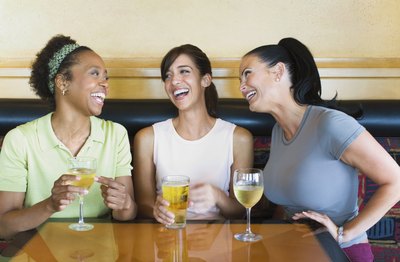 Effect on Cholesterol
A study published in the Journal of Nutritional Biochemistry in September 2004 found that animals given beer each day along with a high-cholesterol diet had smaller increases in cholesterol than animals given the same diet without the beer. Beers containing more antioxidants had a greater beneficial effect than those containing lower levels of antioxidants. Substances that come from the hops used to make beer, called isohumulones, may be responsible for some of the cholesterol metabolism benefits of beer, notes a review article published in BioFactors in 2004. More research is needed to determine whether these benefits occur in people as well.
Potential Considerations
Stick to drinking a moderate amount of alcohol, which is no more than one drink each day for women or two drinks each day for men. In terms of beer, one drink equals one 12-ounce bottle or can. Drinking more than this may increase your risk for stroke, high blood pressure, breast cancer, accidents, obesity, accidents and alcoholism, according to the American Heart Association. It can also increase your triglyceride levels. Don't attempt to use beer in place of high-cholesterol treatments prescribed by your doctor.