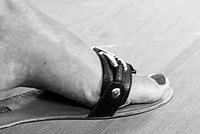 Neuromas are non-cancerous growths composed of thickened nerve tissue. According to the PodiatryNetwork.com, neuromas most often develop on the ball of the foot. A neuroma that is located on the foot is called Morton's neuroma.
Identification
When you have a neuroma, you may experience numbness or tingling in your toes, as well as burning pain in the ball of the foot.
Causes
According to the Mayo Clinic, it's unclear exactly what causes a neuroma. However, it's likely associated with a trauma or compression of the nerves in your feet.
Risk Factors
You may be more susceptible to developing a neuroma if you injure your foot, if you engage in sports that repeatedly impact your foot (such as running) and if you wear tight shoes or high-heeled shoes.
Diagnosis
A neuroma does not leave a visible lump on your foot, so diagnosis may be tricky. Your doctor may use an x-ray to find the mass, as well as determine whether there is a "clicking" in your foot bones.
Solution
Try simple treatments first, such as purchasing shoes that fit better, rest, using arch supports and using over-the-counter pain relievers. If these measures are inadequate, talk to your doctor about using corticosteroid injections; surgery is a last resort.