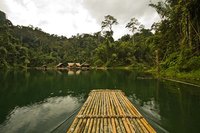 Rainforests are home to thousands of animals, birds, plants and insects. Spending any amount of time in the rainforest is a chance of a lifetime for any nature lover, and there are several different things you can do in the rainforest to experience it all.
Hiking
One of the best ways to experience the rainforest and see the abundant wildlife is to take a short day hike. Many hikes lead to a waterfall, and different skill level trails guarantee that the entire family or inexperienced hikers will also have fun.
Amazon River Cruise
You can spend few days cruising along the Amazon River in a riverboat where you will have your own cabin. Besides just admiring the rainforest scenery from the deck, you can listen to nature lectures and take a guided excursion to see the wildlife with your own eyes.
Whitewater Rafting
Whitewater rafting down the Apurimac River is surely going to make your adrenaline running. The level of the rapids varies between Class III and V.
Camping
If you would like to spend more than a day hiking in the rainforest, you can camp in the Amazon rainforest. Book a guide to go with you and spend the nights either sleeping in a tent or in one of the many lodges in the middle of the jungle.
Canoeing
If traveling by feet is not for you, you can make the miles disappear with a wooden dugout canoe. If you enjoy outdoors, appreciate nature and want to explore the rainforest, canoeing down the Amazon could be the highlight of your trip.