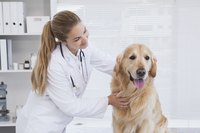 Caring for an aging or sick pet can be a stressful experience for you as well as for your beloved companion. The signs of imminent death vary from one type of pet to the next, as well as among individuals within a species. If your pet is terminally ill, or if you suspect he may be dying, consult your vet to ensure that the pet is as comfortable as possible.
Signs of Dying Dogs and Cats
Dogs and cats may exhibit several signs they are at the end of their lives. Weeks before death, elderly dogs and cats may appear depressed, may lose interest in activities they usually enjoy, and may spend less time grooming themselves. Gastrointestinal upset, inappetence and weight loss can also indicate that your pet is nearing the end of his life. Cats often become senile as they approach death, which may manifest as aimless wandering or withdrawal. As the time of death nears, dogs and cats may lose consciousness, and their pulse and breathing rates may decline.
Symptoms of Dying Birds
Dying birds are often lethargic; they may remain perched in a single spot all day or may simply sit on the bottom of their cage. Anorexia is frequently associated with dying birds. Watch for changes in your bird's behavior, such as depression or excessive sleeping, which often indicate that death is imminent.
Reptiles, Amphibians and Fish
Many small exotic pets die relatively suddenly, without displaying any signs of illness or discomfort. However, disorientation, lack of coordination and lethargy are common among many reptiles and amphibians as they begin dying; dying fish may swim in unusual postures. These types of pets often experience rapid health declines -- but, because many of the illnesses that cause them to die are treatable, it is imperative to seek veterinary attention at the first signs of illness.
Euthanasia and Quality of Life
While death is ultimately inescapable, you should make every attempt to ensure that your companion remains as comfortable as possible during his period of slipping away. Discuss your pet's quality of life with your vet and decide upon the best course of action. Pet owners often elect to euthanize their pets to prevent them from enduring pain or discomfort. To euthanize your pet, the veterinarian will give a sedative injection and then a medicine to stop your pet's heart. According to the ASPCA, death usually occurs in 10 to 20 seconds.