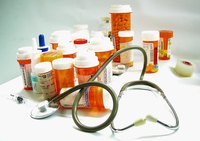 Although both mood stabilizers and antidepressants are useful in the treatment of various types of depression, there are some key differences that often make one more effective for a particular case.
Benefits of Antidepressants
The purpose of an antidepressant is to treat depression by lifting mood. This is the best way to treat the condition for many sufferers. Antidepressants can also be helpful for patients with panic disorder or attention-deficit disorder.
Drawbacks of Antidepressants
Antidepressants can be unhelpful or even dangerous in some cases, such as when taken by a patient with a bipolar disorder. They can cause the patient's mood to escalate into a manic episode. Some patients with depression respond poorly or not at all to antidepressants.
Benefits of Mood Stabilizers
Mood stabilizers are most often prescribed for bipolar disorder. Instead of lifting the mood, they regulate both the high and low extremes. Mood stabilizers might also be used as supplements to antidepressants.
Drawbacks of Mood Stabilizers
Mood stabilizers produce a variety of unpleasant side effects, including tremors, weight gain, increased urination, extreme thirst, lack of coordination, difficulty concentrating, stomach upset and decreased sexual desire. Lithium, a common mood regulator, reduces thyroid function, which can cause depression.
Conclusions
Despite some negative side effects, both antidepressants and mood stabilizers have been found to be helpful—and even life-saving—medications.