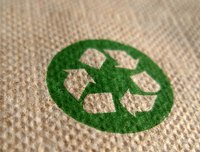 Most people recycle paper to save trees, which it does, with 17 fewer trees being cut down for each ton of paper that is recycled. But there are a number of other reasons why recycling paper is an important and environmentally-conscious practice.
Energy Use
Making paper from recycled paper uses 25 percent less energy than making paper from trees, as turning trees into paper pulp is a very energy-intensive process.
Other Resources
Recycling paper saves 7,000 gallons of water per ton of paper recycled, in addition to a number of other resources, such as oil and fuel, that are used in turning trees into paper.
Landfills
Every ton of paper that is recycled instead of thrown away saves 3.3 cubic yards of space in a landfill.
Bleaching
Paper produced from trees must be bleached, but recycled paper needs little bleaching. Oxygen can be used to bleach recycled paper, which is far less harmful to the environment than chlorine bleach.
Significance
In 2008, Americans recycled a record 57.4 percent of the paper they consumed. Goals are in place to increase this number to 60 percent by 2012.