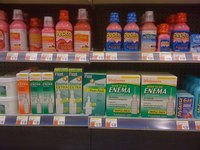 Enemas are used to help relieve impacted bowel movements. Children may be prescribed enemas by a doctor after surgery or if they have been constipated and haven't been having regular bowel movements. In addition, they may be used to clean the bowel before surgery, X-rays, endoscopy or other intestinal procedures.
Types
Enemas come in liquid form and are inserted in the anus of children to help release the backed up stool. Enemas come in several types, including mineral oil, homemade saline solution and phosphate solution.
Features
Mineral oil comes in 4.5 oz. and can be bought in a pharmacy. The homemade saline solution is made from 2 level tsp. of table salt and quart of lukewarm distilled water, which an be inserted using an enema tube and bag. The phosphate solution enema comes readily prepared in a pharmacy.
Warning
Nothing should be added to the enema, especially with the homemade enemas. Do not use soap, hydrogen peroxide or even plain water with the enema. These items can be very dangerous.
Dosage
Mineral oil dosage is 2.0 oz. for 2 to 6 years of age and 4.5 oz. for older than 6. Homemade solution dosage is 6 oz. for 2 to 6, 12 oz. for 6 to 12 and 16 oz. for individuals older than 12. Phosphate solution dosages go according to weight:
20 lb. is 1 oz., 40 lb. is 2 oz., 60 lb. is 3 oz., 80 lb. is 4 oz., 90+ lb. is 4.5 oz.
Considerations
Sometimes a second enema needs to be given to help relieve the impacted bowel movement. Enemas can be given to children again after 24 hours after the first enema is given and with doctor consultation.