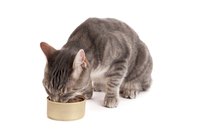 If your cat is a fish fanatic, try transitioning him to some non-fish feline foods. That's because too much high-mercury fish in the diet can lead to mercury poisoning. Pollution causes mercury to end up in sea waters, with fish consuming it. An occasional fish meal or treat shouldn't cause harm, but avoid feeding your cat fish daily, especially high-mercury fish.
Mercury Poisoning
Signs of mercury poisoning include lack of coordination and balance difficulties. Of course, many other feline diseases include those symptoms, especially neurological disorders. More subtle is kidney disease, a common issue in older cats. Mercury can accumulate in these organs. Signs of kidney disease include excessive drinking and urination. Odds are that a cat showing these symptoms doesn't have mercury poisoning, but it's something to keep in mind in those consuming lots of fish. If you notice any suspicious symptoms in your cat, take him to the vet.
Read Labels
Fish at the high end of the food chain eat the most mercury. Avoid tilefish, king mackerel, shark and swordfish. You probably haven't seen cat food labeled "tilefish," but that's because pet food manufacturers refer to it as "ocean whitefish." Limit treats and foods containing tuna and other [high and moderate sources of mercury] (http://www.nrdc.org/health/effects/mercury/guide.asp). If your cat craves fish, salmon, sardines and trout are low-mercury choices.