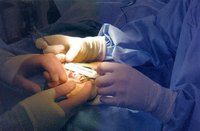 The term "thoracic" comes from the word "thorax," which is derived from the Greek/Latin term for "chest" or "breastplate." Thoracic surgery, in its most basic form, refers to any surgery in that part of the body.
Definition
Thoracic surgery is the medical practice of providing operative and critical care treatments for disorders and injuries to the chest, including the heart, lungs, great vessels, esophagus and chest wall.
General Thoracic Surgery
The most basic and generalized type, general thoracic surgery involves the treatment of lung diseases, tumors, cancers, and transplants as well as esophageal problems and gastroesophageal reflux.
Congenital Heart Surgery
Congenital heart surgery focuses on repairing structural abnormalities in the heart and surrounding vessels. This specialty commonly supports infants and children and includes pediatric heart surgery and transplants.
Cardiac Surgery
Cardiac surgery most often applies to adults and targets diseases of the heart, blood supply to the heart, heart valves and great vessels, as well as heart transplants.
Lung Surgery
Lung surgery is sometimes grouped in with the above subcategory of general thoracic surgery but can be a focus for some surgeons. It targets diseases of the lungs and airways, lung cancer, COPD (Chronic Obstructive Pulmonary Disease) and lung failure.