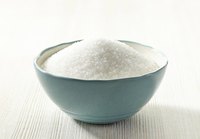 High-fructose corn syrup may take more blame than table sugar for causing health problems, but the two sweeteners are nearly the same. They're almost identical chemically, they provide the same number of calories per gram and both are used as added sugars, which means they're high in calories while lacking nutrients. The best way to protect your health is to limit your use of all added sugars, including high-fructose corn syrup and table sugar.
Compare Ingredients
High-fructose corn syrup is made by breaking down corn starch into molecules of glucose. Then enzymes are used to turn some of the glucose into fructose. The final product is called high-fructose corn syrup, or HFCS, because it contains more fructose than the pure glucose normally found in corn syrup. Formulas of HFCS contain either 42 percent or 55 percent fructose, with the remaining percentage consisting of glucose, reports the U.S. Food and Drug Administration.
Sugar, also called sucrose or table sugar, is made by extracting and crystalizing sugars from sugar cane and beet root. Sugar consists of equals amounts of fructose and glucose, so it has 50 percent fructose.
Differences in Metabolism
The two sugars that make up sucrose and HFCS -- fructose and glucose -- are metabolized differently after they're digested. Glucose easily enters the bloodstream, causes a spike in blood sugar and triggers the release of insulin. Every cell in the body uses glucose for energy. The liver only converts glucose into fat when the amount in the bloodstream exceeds energy needs.
Fructose can only be metabolized in the liver, so it travels directly to the liver and has minimal, if any, impact on insulin and blood sugar. The liver generally converts fructose straight into fat. For this reason, overconsumption of fructose is associated with accumulation of fat in the liver, notes Harvard Health Publications.
Health Concerns
High-fructose corn syrup has been associated with high blood levels of triglycerides. But the fructose component causes the problem, which means too much sucrose could have the same effect, according to a report in Nutrition and Metabolism in November 2010.
A study published in December 2013 in Nutrition Research reported that sucrose and HFCS have the same metabolic effect. Researchers found no differences in metabolic markers, such as insulin and glucose, between men and women that drank HFCS and the group that consumed sugar.
The potential for weight gain is a problem associated with table sugar and HFCS because they're both added to foods during processing. As added sugars, they contribute extra calories without the benefit of any nutritional value.
Intake Recommendations
It's important to track the amount of added sugar you consume because it's easy to get more than you realize, especially if you drink soft drinks or other sweetened beverages. For example, a 12-ounce can of cola may have as much as 33 grams, or 8 teaspoons, of sugar.
Women should limit their added sugar intake to less than 6 teaspoons daily, while men should consume no more than 9 teaspoons, recommends the American Heart Association. The nutrition label reports total sugar, which includes natural and added sugars. The only way to identify the presence of sucrose and HFCS is to check the list of ingredients.