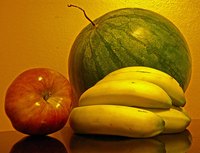 Minerals are required in order for the body to properly function. Two necessary ones are potassium and calcium. Both of these perform specific tasks that keep the body strong and healthy.
Function
Potassium is needed to assist in the nervous system, lower chances of developing hypertension and help with food digestion. Calcium is required to keep bones and teeth healthy.
Cause
Potassium deficiencies can be caused by a poor diet, vomiting, diarrhea and problems with organs in the digestive system. Calcium deficiencies can also be caused by poor diet along with thyroid problems and low vitamin D. Both are greatly affected by hormone levels.
Symptoms
Both can result in muscle cramps, weakness and aches. Low calcium can also result in low bone density and problems with teeth.
Treatment
Low potassium is treated by fixing problems with specific organs, supplements and improving eating habits. Calcium deficiency is also treated by change in diet and supplements, but also needs to focus on the cause.
Prevention/Solution
Eating foods rich in both calcium and potassium is the best way to prevent a deficiency. Examples for potassium are bananas, avocados and raisins. For calcium, eat dairy products, almonds and broccoli.