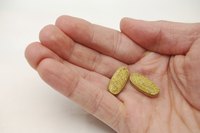 When you take in a deep breath, iron helps transport that oxygen throughout your body. Low iron is the most common nutritional deficiency in the United States, according to the Centers for Disease Control and Prevention. Iron deficiency can lead to anemia, which causes fatigue, pallor and a rapid heart rate. Iron pills can prevent a deficiency, but make sure you check with your doctor first -- self-treating with iron pills can have serious side effects.
Function of Iron
When oxygen enters your lungs, iron is a crucial part of the protein molecules in red blood cells that transport oxygen around the body. This includes transporting oxygen to your muscles, which is why you may feel weak if you have a lack of iron in your blood. Iron makes up part of many enzymes, which are crucial for digesting food efficiently. The recommended dietary allowance of iron for men and women over 50 is 8 milligrams, while women between the ages 19 and 50 require 18 milligrams. Dietary source of iron include spinach, beef, oysters, soybeans and lentils.
Treatment for Anemia
Iron deficiency anemia is a condition caused by too little iron in the blood. It occurs when you don't have enough red blood cells to carry oxygen around the body. In addition to fatigue, you may experience irregular heart rhythm, headaches, shortness of breath and chest pain or have pale skin. The iron deficiency form of anemia is treated with iron pills provided by a doctor or an iron-enriched diet.
People Who Need More Iron
Infants and toddlers experiencing rapid growth may benefit from increased iron intake, according to the Centers for Disease Control and Prevention. The recommended dietary intake for infants between 7 months and 1 year of age is 11 milligrams. Pregnant women may require an iron supplement, which is prescribed by obstetrician or gynecologist. Iron levels diminish when heavy bleeding occurs. Those at risk who could benefit from an iron supplement include frequent blood donors and women with heavy menstrual bleeding.
Safety for Taking Iron
When taking iron supplements, avoid high-fiber foods and food or drinks that contain caffeine and calcium, warns MedlinePlus. Fiber and calcium bind with iron, which affects its ability to be absorbed in the blood. On the other hand, taking your iron supplement with vitamin C or orange juice improves its absorbability. Side effects, such as constipation and diarrhea, are common, while nausea is a sign that you have taken too much. If you experience any of these symptoms, consult your doctor for advice.
Avoid Iron Supplements in Perimenopause
Heavy menstrual periods increase a woman's iron needs due to blood loss. However, a woman in perimenopause or menopausal transition may experience increased or shortened menstrual cycles. Research published in Antioxidants & Redox Signaling in 2009 suggested that women in menopause may not require iron supplementation and it may be a risk factor in menopause-related conditions. As menopausal women have lower estrogen and high iron, an iron supplement may lead to oxidative stress and sensitivity to sun exposure.