The tetanus vaccine is the most recommended immunization vaccine that protects one from the tetanus disease. These vaccines are given in early childhood, during pregnancy, middle age and after an injury.
Types
DTaP or DT tetanus vaccines are given to children. TD or TDaP is a tetanus booster teenagers and adult are given to protect their health.
Time Frame
The DTaP or DT tetanus vaccine is given to a child at two months of age, then four months, six months and when the child is 1 1/2. It is followed by a booster shot between the ages of 4 and 6. The TD or TDaP vaccine is given at the age of 11 to 12, followed by a vaccine every 10 years to keep the person totally immunized.
Consideration
Additional boosters of the tetanus vaccine can be given to individuals who have an accident or injury in which the skin is broken, allowing dirt or rust to enter into the body.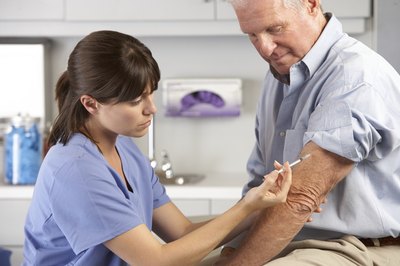 Warning
A pregnant woman who has not been immunized against tetanus for more than 10 years should take two doses of Tetanus Toxoid or Td at four-week intervals and two weeks before delivery.
Problem Prevention
Children who are sick should not be vaccinated. Children who have had an allergic reaction to DTaP vaccinations should be given the DT vaccine instead. The latter does not include protection from pertussis (whooping cough).