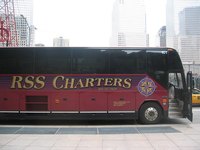 The Federal Motor Carrier Safety Administration (FMCSA) regulates private interstate bus transportation. Private carriers must follow specific rules regarding licensing, driver qualifications, hours of service, maintenance and safety.
Types
A carrier is considered a private motor carrier of passengers PMCP if it operates vehicles across state lines or with 16 or more passengers. Business PMCPs drive for commercial enterprises that aren't available to the public, such as employee transportation. Non-business PMCPs drive for non-commercial organizations, such as churches or charity groups.
Insurance and License
Private carriers are required to have at least the legal minimum-required amount of insurance for their buses, which is determined by seating capacity. Additionally, carriers are required to obtain a license from the FMSCA to operate across state lines.
Driver Qualifications
Carriers must maintain driver qualification files for every driver hired, and must retain all related files for three years after any accident. Drivers may not be able to operate buses if they have a suspended or rescinded license, a criminal history or a history of violating out-of-service orders.
Hours of Service
Rules define how many hours drivers may drive a bus without resting. Carriers may assign relief drivers to take over from drivers who are nearing the end of their on-duty time.
Maintenance
Records must be kept to document bus maintenance. Drivers must deliver any roadside inspection reports to their employer and complete a daily post-trip inspection report. Buses must have an annual inspection.