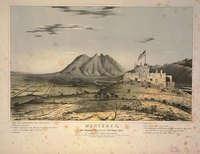 Monterrey is the capital of the northeastern state of Nuevo Leon, Mexico, which shares its border with the United States. It is sometimes referred to as the "Sultan of the North" because of its large industrial base and the many businesses that call the city home. The city dates to 1596. A nearby mountain, Cerro de la Silla, or Saddle Hill, is the city's logo.
Population
Monterrey ranks as Mexico's third largest city with more than 1 million residents within the city limits and over 3 million in the entire urban area.
Education
Monterrey has more schools of higher learning than any other city in Mexico. These include universities, colleges and schools dedicated to the advancement of technology. Monterrey also boasts to more than 20 percent of the country's computers.
Tourism
Since Monterrey has no beach, it has escaped notice by most leisure travelers and is visited primarily by businessmen. As these working travelers have spread the word, vacationers have been increasing in numbers.
Macro Plaza
The Tower of Commerce, or Faro de Comercio, serves as the focal point of Marco Plaza and is also Mexico's highest monument. The plaza itself, composed of several smaller plazas with fountains, parks, trees, bandstands and a theater, is six blocks long. It is within walking distance of several museums, including the Museum of Mexican History.
Barrio Antiguo
A vision of colonial architecture by day and the city's hotspot for nightclubbing after dark, Barrio Antiquo, or Old Town, dates to the early 1900s. This part of the city is known for its restaurants, cafes and pubs.
Fun Fact
Legal drinking age in Monterrey is 18. Bars and nightclubs have no legal closing time, and many stay open until 3 or 4 a.m.