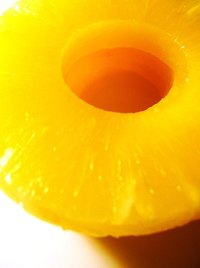 Though pineapple is widely available fresh, canned pineapple is quite common. Variations in how the pineapple is cut for canning do not affect the nutritional value, but the liquid medium in which the fruit is canned certainly does.
Carbohydrates
Most of canned pineapple is water. The largest other single element is carbohydrates, which is primarily sugar and fiber. Whether the canned pineapple is sweetened, unsweetened or canned in light syrup causes the sugar content of 1 c. canned pineapple to vary from 18g to 55g.
Calories
Sweetened canned pineapple is not a low-calorie food; sugar content causes it to have as much as 200 calories per cup. The same amount of unsweetened pineapple has as few as 80 calories per cup.
Fat and Protein
Canned pineapple is virtually a fat-free food and is not a source of protein. One cup has approximately 0.2g fat and about 1g protein.
Vitamins
Pineapple is a good source of vitamin C, with 1 c. providing approximately one-third of the recommended daily intake. Other vitamins present in much lower quantities include vitamin B12, vitamin B6, vitamin A, vitamin E and vitamin K.
Minerals
Canned pineapple also contains several minerals, the most nutritionally significant of which are calcium and iron. It also contains phosphorus, sodium, potassium, magnesium, copper, manganese and selenium.