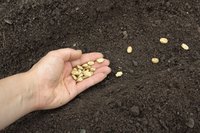 Gardeners traveling abroad may be tempted to pick up some seeds to replicate foreign blossoms at home. The U.S. government regulates the importation of seeds -- from massive shipping containers down to one tiny packet -- to protect native species from potentially harmful invasive plants. The legality of a seed variety depends on the type of plant, country of origin and the final call of U.S. Customs and Border Protection officials.
Always Declare
Regardless if the variety of seed you're attempting to bring home makes it through customs or not, what will definitely get you in trouble is failure to declare it. The customs declaration form asks if you're bringing "fruit, vegetables, plants, seeds, food, insects" into the country, along with what countries you've been visiting. Check "yes" if you've got seed anywhere in your carry-on or checked luggage, or if you're driving back across the border with seeds in your vehicle. Failure to declare can net you up to a $1,000 fine for a first-time, noncommercial offense.
USDA Rules
The U.S. Department of Agriculture maintains an online Fruits and Vegetables Import Requirements database to search by country. Next to plant descriptions the USDA specifies which parts of the plant are acceptable to bring into the country, such as just the fruits, only "above ground parts," tubers, flowers, nuts, leaves, pods or "all plant parts." Border officials use these commercial importation rules, which can change with global outbreaks, as guidelines when determining whether to allow a traveler's plant products, however, they can deny acceptance of the products after inspection.
Seed Certification
In addition to undergoing inspection as all plant products do, seeds and other "propagative plant material" such as bulbs, cuttings and live plants, are required by U.S. Customs and Border Protection to have a phytosanitary certificate from the country of origin to ensure they meet regulations. To expedite this process as a traveler, buy a seed packet from a nursery that has already had the seeds inspected and labeled for export. You'll need to obtain the certificate from the country's agriculture department before bringing seeds back to the United States if you've gathered them on your own or purchased them from a source that didn't precertify the product. Contact the country's tourism ministry or the USDA if you need help getting pointed to the right office.
Snail Mail
Putting seeds in an envelope while traveling abroad and mailing them to your home address doesn't take away the responsibility to report the agricultural products. Fill out the form for customs when depositing the package or envelope at the post office in the country of origin. Customs officials decide whether to allow the mail to go through or to confiscate the seed.