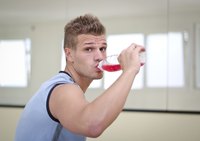 Zipfizz is an energy drink comprised of all-natural ingredients. It comes in a variety of flavors, each with 10 calories and 25 vitamins and minerals in each drink. Zipfizz contains ingredients such as ginger, American ginseng and green tea. Some ingredients, even though they may be natural, may cause side effects.
Ginger Side Effects
In moderate doses, ginger rarely causes side effects. When taken in higher doses it has been known to cause heartburn, bloating, gas and nausea, according to the University of Maryland Medical Center. If you are taking blood thinning medications, such as warfarin or aspirin, you should limit your consumption of ginger products, as it may increase the effectiveness of your medication and increase your risk of bleeding.
Green Tea Side Effects
Green tea can cause anxiety, insomnia, raised heart rate and high blood pressure. Green tea may interact with numerous medications, from increasing the effectiveness of blood thinners to increasing the side effects of antibiotics. Before consuming Zipfizz, talk to your doctor about how it may interact with any medications you may be on.
American Ginseng Side Effects
The most common side effects of ginseng are headaches, interrupted sleep and gastrointestinal problems. You may experience these side effects when consuming Zipfizz.
Warnings and Precautions
Zipfizz is not recommended for children, pregnant women, or people who are sensitive to caffeine, as it can cause jitters. Limit yourself to three tubes a day, and avoid drinking in the evening to cut risk of insomnia.