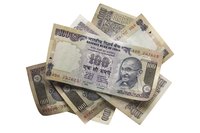 The rupee is the currency of India, although coins called "paise" still are in circulation. Paise are rare because the denomination is so small; 100 paise equals 1 rupee. Unlike how U.S. currency is described, the type of currency precedes the amount when describing rupees in India. Thus, it's Rupees 5 or, to use the popular shorthand, Rs 5.
Coins and Notes
Paper rupees are available in denominations of Rs 5, Rs 10, Rs 20, Rs 50, Rs 100 and Rs 1,000. While you can find Rs 1 and Rs 2 notes, they are rarer than Rs 1 and Rs 2 coins, according to the RBI Currency Museum. The Rs 5 note also is available as a coin. Those rarely circulated paise are available as 10 paise, 25 paise and 50 paise.
About Exchanging Money
Banks in India will readily accept U.S. dollars to exchange currency for rupees. Because the rate for exchanging money can be higher at airports than at banks, Frommer's suggests exchanging the minimum needed upon arrival. ATM machines are plentiful in big cities. When exchanging dollars for rupees, Lonely Planet advises asking the bank for smaller denominations along with larger ones, because some vendors won't have change for Rs 500 and Rs 1,000. Ask for an encashment certificate, which is the bank's receipt for the exchange. You might be asked to show the receipt before changing rupees back to dollars before your departure from India. Many banks and airport exchanges won't change less than Rs 1,000 to U.S. currency.