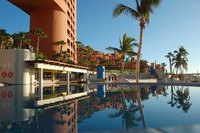 The Starwood Hotels are part of the Starwood Capital Group, one of the largest hotel chains in the world.
Origin
The Starwood hotel chain began in 1994 with acquisition of Westin Hotels under Barry Sternlicht's management of the Starwood Capital Group. Sternlicht currently serves as the corporation's chairman and chief executive officer.
Aquisition
In 1997, Starwood purchased all remaining Westin properties and started its fight to obtain the ITT Corporation, a company once well known for its control of the Sheraton hotels and a string of casinos. After a bidding war with Hilton Hotels, Starwood acquired ITT in a $10.2 billion deal.
Statistics
Shortly after buying the Westin Hotels in the mid 1990s, Starwood Hotels had close to 50 hotels around the globe. By 2007, Starwood had boosted its numbers to over 750 properties worldwide, including close to 200 in China.