Making dietary changes may help you better control symptoms of rosacea, a skin condition that can cause broken blood vessels and redness in the face and sometimes affects the eyes as well. Not all people experience reactions to the same foods, but keeping a record of those that cause your symptoms to worsen will help you determine the best foods for you to eat and those to avoid.
Foods to Avoid
Foods that can cause your blood vessels to dilate are most likely to worsen rosacea symptoms. These include alcohol, foods containing caffeine and foods that are spicy. Heated beverages can also trigger symptoms in many people. Be careful with dairy products, vinegar, liver and soy sauce, as some people experience flare-ups after eating these foods. Marinated meats and certain fruits and vegetables, including tomatoes and citrus fruits, can sometimes have an adverse effect as well.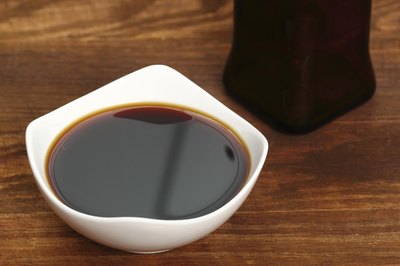 Foods to Eat
People with rosacea can eat any foods that don't trigger an increase in their symptoms. A review article published in "The Journal of Clinical and Aesthetic Dermatology" in September 2008 noted that foods containing omega-3 and omega-6 fats may help improve the dry eyes that some people with rosacea experience. Consider adding more seafood and flaxseed to your diet to get these benefits. This article also notes that beer is the least likely type of alcohol to cause an increase in symptoms and that many people with rosacea can tolerate iced tea and iced coffee.