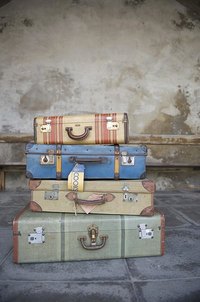 Traveling with bulky luggage can reduce the amount of fun you have on a trip, but small and light bags are easy to carry and stow.
Types
The ideal lightweight luggage is soft-sided, collapsible and made of sturdy material. Lightweight does not have to mean flimsy.
Your bag may have wheels and an extendable handle, one or two shoulder straps, anda carrying handle. Backpacks, small rolling carry-ons and shoulder bags can all be lightweight luggage.
Backpacks
A backpack with or without an internal frame tends to be lighter than a rolling bag. A good quality backpack can cost $75 to $200, with internal frame packs on the higher end, but it will last a long time. Backpacks are ideal for those who will be very mobile during their travels and will carry their luggage around.
Some backpacks have wheels and a telescoping handle to convert to a rolling bag. Choose this option only if you are sure you will use it--this adds considerable weight to your luggage.
Shoulder Bags
Messenger bags and duffel bags are examples of shoulder bags. They have a shoulder strap and may also have a handle for carrying. They come in a variety of sizes and are ideally suited for trips of a few days. Because a shoulder bag cannot be carried symmetrically on the body, it can be harder to carry than a backpack with the same weight. If you want luggage without wheels, but have a lot to carry, consider a backpack.

Rolling Bags
Rolling bags are easy to transport indoors, and on smooth pavement and sidewalks. You may be able to carry more with you by using a rolling suitcase.
When choosing a rolling bag, look for soft-sided models. Test the telescoping handle to make sure it extends and retracts easily, and that it is the right length for you when you walk. If you will be buying souvenirs or picking up other items on your trip, consider getting an expandable bag. Many models have this feature.
Your rolling bag should weigh no more than 10 pounds.

Expert Insight
Leather is durable, but heavy. Look for sturdy and lightweight Cordura or ballistic nylon.
Buy the highest quality you can afford. Your wallet won't get lightweight paying for replacements in the near future.
When you will be moving frequently with your luggage, make sure you can lift your rolling bag. Wheels can break and may be useless on cobblestone and mud.
Put a small duffel bag or backpack into other luggage, to use as a day bag or for items you collect on your trip.
One of the easiest ways to travel light is to pack less.
Consider carry-on bag size and weight limits if you are traveling by plane and don't want to check bags. An empty rolling bag easily weighs half of a typical 18 to 22 lb. weight limit, and may be larger than the usual limit of 9 inches by 14 inches by 22 inches. An internal frame backpack usually must be checked. A backpack without a frame, a duffel bag or a soft-sided suitcase without wheels will be lighter and leave you more room for your stuff.