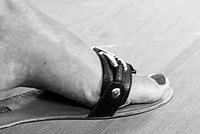 Foot fungus is common for people of all ages and is generally easy to treat. Two types of fungus will infect feet: athlete's foot and nail fungus. Learn to quickly identify and treat foot fungus.
Athlete's Foot
Tinea pedis, more commonly known as athlete's foot, forms on the skin. Athlete's foot can be identified by dry, cracked or scaly skin. Skin may peel away from the site, and the infection may burn or be itchy. Some cases may include blisters and broken skin. Athlete's foot may occur between the toes or under the soles of the feet.
Nail Fungus
Onychomycosis, or nail fungus, thickens the nail and turns it an unattractive, dark color. The fungus could create a foul smell and cause pain around the infection.
Cause
Both types of foot fungus are caused when a warm, moist climate exists. A fungal infection may be contracted through direct contact with a person or an object containing that fungus. Athletes and people with excessive foot sweating are more prone to fungus on the foot.
Prevention
Keep feet clean and dry to prevent fungus from forming on nails or feet. Foot fungus is often contracted when in a public bathroom, locker room, swimming pool, or shower. Always wear socks in a locker room, and thoroughly scrub feet after using a public shower. Also, avoid wearing the same pair of sweaty shoes or dirty socks throughout the day.
Treatment
Home-Remedies-for-You.com, a website that specializes in home health remedies, suggests first seeing a doctor who will prescribe antiviral medications. While medications can cure foot fungus in a much shorter time period, the websites also lists some other options. Apple cider vinegar, tea tree oil or hydrogen peroxide work to clean the infection when applied or rubbed into the infection.