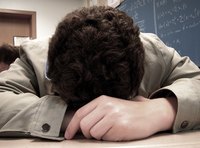 Migraines are severely painful headaches that can last for hours or days. Medicines such as Topamax can ease the pain of migraines and make them occur less frequently. As with all medications there are potential side effects associated with the use of Topamax.
Paresthesia
According to Ortho-McNeil-Janssen Pharmaceuticals, numbness and tingling, also known as paresthesia, is the most common side effect. This side effect typically occurs within the first stages of treatment.
Fatigue Side Effects
Users of Topamax have reported feelings of tiredness and fatigue while taking the medication.
Effects on Taste
Another common side effect of Topamax is experiencing changes in the way foods and drinks taste. Topamax users have reported this side effect while drinking carbonated beverages.
Weight Loss
Weight loss has been reported while taking this drug. However, according to the Topamax website, the reported weight loss users experienced was related to the doses they took.
Concentration and Memory Side Effects
Topamax users have reported difficulties with concentrating. Other users have reported issues concerning memory recall functioning.
Considerations
Topamax users may experience other common side effects such as nausea, diarrhea and appetite loss. If you experience any of these common side effects consult your doctor for more information.