Cats do not normally drink a great deal of water, particularly those who primarily consume wet food. Excessive water drinking is often a sign of underlying disease, such as diabetes, hyperthyroidism or kidney failure. If your cat has started drinking a more water than normal, get a veterinary examination to figure out what's wrong.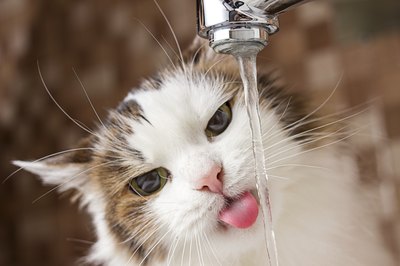 Watch for Signs of Kidney Disease
Drinking a lot of water can be a sign of kidney disease in cats. Symptoms that might accompany excessive water consumption include poor appetite, weakness, weight loss and vomiting. Cats with kidney disease are often dehydrated despite their increased drinking. Kidney disease is more common in older cats, but it can happen at any age.
Have Your Cat Tested for Diabetes
Frequent and increased drinking is a common symptom of diabetes. Cats with diabetes also urinate more frequently. They often have a very large appetite and are overweight. Diabetes can be dangerous for a cat if left untreated for too long. It requires treatment with insulin therapy. Your vet will advise you and will help you become proficient at administering insulin at home.
Check the Health of His Thyroid
Hyperthyroidism is a glandular disorder that causes increased appetite and thirst in cats, as well as weight loss, hyperactivity and vomiting. Cats with hyperthyroidism often look unkept. They shed hair faster than normal. The two most common treatments for the condition are radioactive iodine therapy and anti-thyroid medication, both of which require your vet's involvement.
Ask Your Vet About Urinary Tract Problems
Urinary tract problems -- which include infections and chronic disease -- tend to be very serious. Often they require emergency treatment. Common signs include of UT problems in cats include increased water consumption and problems urinating -- increased litter-box trips may produce urine that's bloody or smells like ammonia. Urinary tract problems can be very painful.