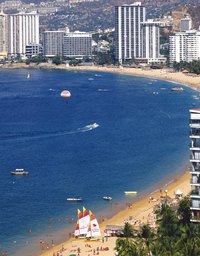 Because of its Pacific and Caribbean coastlines and central highlands, Mexico enjoys several climates, which are meteorological conditions over a long period of time, but within each climate zone there are fairly predictable patterns of weather, or day-to-day conditions. The movie stereotype of a uniformly hot and dusty desert terrain strewn with agave and cacti applies only to the northern regions; in fact, many of the main tourist areas are surprisingly cool, with sunshine a given, but the occasional shower always a possibility.
Main Seasons
Mexico's hottest weather is from June to October, but temperatures reach their peak in the south a little earlier, from April to May, while July to September are the hottest along the Pacific Coast. On the Caribbean side, the Yucatan Peninsula swelters from May to September. While the north receives little rain, the wet season runs from May to September over most parts south of the Tropic of Cancer, with searingly hot days giving way in the late afternoon to thunderstorms and tropical downpours. Temperatures vary by only about 10 degrees Fahrenheit throughout the year in the tropical coastal regions, but in the northern deserts, variations are more distinct, with summer daytime topping 110 degrees F in Baja California but nights nudging freezing on the Mesa del Norte. Frommer's calls the north unspeakably hot in summer, but from November to January the cold jet stream from the U.S. brings a chill.
Regional Variation
The Caribbean hurricane season affects weather in the Yucatan Peninsula, including Cancun, from June to December, when days are hot and humid, and evenings characterized by showers. Although hurricanes rarely arrive without warning, they bring potentially devastating amounts of rain, storm surge, and high winds, followed by uncomfortably hot, humid conditions. The Pacific coast south of Baja enjoys a similar storm season but is slightly cooler and drier overall. Inland, the higher altitude areas have more temperate weather, pleasantly cool from December to March with some chilly nights. The desert region of northern Mexico from the U.S. border as far south as Monterrey remains hot and dry year-round, but is refreshingly cool in higher regions such as Guadalajara. The Baja California peninsula, too, is very dry, apart from a brief rainy season in September. During summer, inland conditions can be downright inhospitable, but temperatures are cooler on the coast.
Altitude Factor
Understanding elevation is key to predicting the weather in Mexico, since temperatures typically drop 3.5 degrees Fahrenheit for every 1,000-foot rise in altitude. The low-lying coastal plains and northern deserts below 2,500 feet are brutally hot at times, but much of the country is above this altitude, reaching over 7,000 feet in the mountain ranges. Mexico City, Guadalajara and Monterrey are all at cooler altitudes. Above 7,500 feet, the mountain and volcano ranges are cold, especially around snow-capped Pico de Orizaba, Mexico's highest mountain. Snow has fallen as far south as Veracruz in winter, mainly because of cold air coming down from the U.S., but the phenomenon is rare on the west coast, protected by mountain ranges. As a general rule, the west coast is cooler than the Caribbean coast.
When to Go
Crowds of foreign and local tourists head to the Yucatan from December to May, when it's pleasantly cool and dry, but also the most expensive time for accommodations. Lonely Planet recommends a visit from November to March. For those who can brave beaches that shimmer beneath a fearsome sun, the best deals are from right after the Easter holiday until November, although it can simply be too hot from May to October. Baja California, which includes Los Cabos, has its high season over the Christmas period, but summer sees rock-bottom prices. For divers, the waters are cold in winter, while hiking inland is almost out of the question in summer. As in most coastal areas in Mexico, the beaches are packed over Easter, when Mexicans take the fiesta to the shoreline.