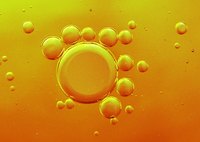 Because extra virgin olive oil is rich in antioxidants, which are known to help slow aging, it has been widely used for centuries as both a food and a skin care product.
History
Upper-class Romans believed in the skin benefits of olive oil. After steaming in a hot bath, they would apply a generous amount of olive oil to withdraw impurities and then go to the cold bath to close the skin's pores. The oil helped trap impurities outside the skin; both could then be scraped away.
Benefits
Olive oil is an excellent moisturizer for dry skin areas such as hands, elbows, knees and heels. It relieves chapped lips. Some cosmetic and pharmaceutical companies suggest that the polyphenol compounds present in olive oil may help repair sun-damaged skin (Reference 1), but conclusive studies have not been conducted.
Treatment
Olive oil is an effective facial cleanser. Anecdotal evidence indicates it helps shrink the size of facial pores and lessen the incidence of acne.
Recipe for Olive Oil Facial Cleanser
To make your own facial cleanser, combine in a small bottle 1 part castor oil to 2 parts extra virgin olive oil with a few drops of essential oil, if desired. Shake well. Pour a dime-sized amount into your palm and rub all over your face to remove dirt and makeup. Wipe your face thoroughly with a very warm, wet washcloth.
Warnings
Take care to keep olive oil out of your eyes. Olive oil will stain some fabrics. If you use olive oil in the shower, be careful exiting a slippery tub.