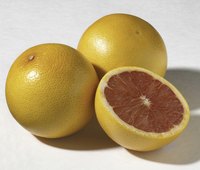 People who regularly eat grapefruit tend to follow a higher-quality diet and enjoy a healthier weight and lower risk of heart disease. However, due to its interaction with certain medications, talk to your doctor before adding grapefruit to your regular diet repertoire.
Nutrition White vs. Red Grapefruit
Grapefruits are low in calories and packed full of good nutrition, but there are some nutritional differences between a white grapefruit and a red grapefruit. If you're concerned with calories or carbs, the white grapefruit is a little lower, with 39 calories and 10 grams of carbs per half a fruit, versus 52 calories and 13 grams of carbs in half of a red grapefruit. But the red is a slightly better source of fiber, with 2 grams versus 1 gram in a serving. Both are fat-free and have about 1 gram of protein per half.
Both types of grapefruits are an excellent source of vitamin C, meeting up to 65 percent of the daily value. Red grapefruit is a much better source of vitamin A than white grapefruit, meeting 28 percent of the daily value, while the white only meets 1 percent.
Healthy Weight
A study published in Food and Nutrition Research in 2014 investigated the differences in health parameters between grapefruit eaters and nongrapefruit eaters. The researchers found that women who ate grapefruit regularly were slimmer than women who did not. The health parameters for men were not discussed.
Grapefruit may also be helpful to those trying to lose weight. A study published in Nutrition and Metabolism in 2011 found that eating fresh grapefruit before a meal helped decrease calorie intake and promoted weight loss in a group of obese individuals. Grapefruit juice and water also helped decrease intake, but the whole fruit had the greatest impact on weight loss.
Good for Your Heart
Observational studies show an association between grapefruit consumption and a decreased risk of heart disease, according to the study in Food and Nutrition Research. The 2011 study from Nutrition and Metabolism also noted a significant improvement in cholesterol levels in the group of study participants who ate the grapefruit or drank its juice.
Grapefruit is rich in flavonoids, specifically narginin, which may be partly responsible for the heart-health benefits because it's noted to help reduce inflammation and blood lipid levels, according to the Nutrition and Metabolism article.
Get Those Antioxidants
Making grapefruit a regular part of your diet can up your antioxidant intake. In addition to the vitamin C found in both the white and red grapefruits, the red is also rich in beta carotene and lycopene. Antioxidants neutralize free radicals, which are substances that damage cells and may contribute to aging, as well as the onset of diabetes, heart disease and cancer.
The best way to get the most antioxidants in your diet, along with all the benefits, is to eat a variety of nutrient-rich foods like grapefruit, says FamilyDoctor.org.
Grapefruit and Medication
Grapefruit can affect how some medication works, so it's not for everyone. Nutrients in grapefruit block the action of enzymes in your gut that are responsible for the metabolism of certain medications, which increases the amount of the medication entering your bloodstream. This may result in dangerously high levels of medication in your body. If you're taking any prescription medication, talk to your doctor or pharmacist before eating grapefruit or drinking its juice.