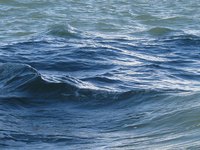 Krill are tiny aquatic crustaceans inhabiting oceans worldwide, sometimes in great numbers. The Antarctic krill has been estimated at over 500 million metric tonnes' biomass, perhaps the greatest of any multicellular organism. While a few species are carnivorous, most--exemplified by the Antarctic species--are filter-feeders.
Phytoplankton
The Antarctic krill feeds mainly on phytoplankton, which are tiny, photosynthetic organisms constituting the foundation of the oceanic food web.
Digestion
Krill are partly transparent. The chlorophyll produced by the phytoplankton they consume may color their gut green, a hue visible from the outside.
Feeding Behavior
Antarctic krill strain their plankton prey from the water. They employ six of their pairs of thoracic limbs, studded with a wispy frill, to form a sort of net. The water scooped up is strained through these limbs, trapping the phytoplankton within.
Population
Phytoplankton numbers are tied to solar radiation. The extended daylight hours of Antarctic summers result in great blooms of both phytoplankton and their krill predators.
Ecological Impact
Wherever it occurs, a massive biomass of krill supports a thriving, diverse community of oceanic creatures, from squid and fish to seals and great baleen whales. Despite their occasional superabundance, krill numbers are threatened by rising ocean temperatures, and any declines would have huge ripple effects up the food chain.