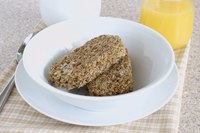 First developed in the 1930s and now the most popular breakfast cereal in Britain, Weetabix has been available in the United States since 1975. The original cereal consists of crispy round biscuits that quickly soften in milk. Made from 100 percent whole wheat sweetened with cane syrup and barley malt extract and fortified with vitamins and minerals, Weetabix is low in fat and sugar. Try it topped with sliced fresh fruit.
High in Fiber
A two-biscuit serving of original Weetabix contains 136 calories, the majority of which are contributed by 26 grams of carbohydrates. Of this amount, nearly 4 grams is dietary fiber. This amount supplies over 12 percent of the recommended daily intake of fiber for a man between 31 and 50 years old and approximately 15 percent for a woman in the same age group. The higher your intake of fiber-rich foods like Weetabix, the less likely you will be to develop hypertension, heart disease, diabetes, high blood cholesterol and digestive disorders like gastroesophageal reflux disease, concluded an article published in April 2009 in "Nutrition Reviews."
Good Source of Protein
A typical ready-to-eat breakfast cereal might contain less than 2 grams of protein per serving. By contrast, Weetabix is high in protein, with close to 5 grams in every two biscuits. That's about as much protein as you'd obtain from 1/2 cup of yogurt or 1 tablespoon of peanut butter. Eating a serving of Weetabix with 1 cup of nonfat milk would supply you with almost 13 grams of protein, or 23 percent of a man's daily requirement and 28 percent of a woman's.
Rich in Iron
A healthy man needs 8 milligrams of iron each day, while a woman should have about 18 milligrams daily. Weetabix contains about 5 milligrams of the mineral in every two-biscuit serving, fulfilling 25 percent of a woman's recommended intake and more than half of a man's. Iron-fortified foods like Weetabix supply only nonheme iron, an iron form not readily absorbed by your body. To maximize the amount you receive from the cereal, eat it with a rich source of vitamin C, such as a glass of orange juice or a fruit salad containing high-vitamin C foods like strawberries.
Variety of B Vitamins
Your body needs the B family of vitamins to support the health of your immune system and to aid in the breakdown of carbohydrates, protein and fat for energy. Without enough, you may be more likely to develop a range of chronic medical problems. Weetabix is an excellent source of three B vitamins -- riboflavin, niacin and thiamine -- supplying over 20 percent of an adult's daily intake in each serving. It's also a good source of folic acid, with 16 percent of an adult's 400-microgram requirement per day.