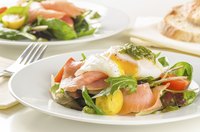 Many people struggle with their weight, but if you have thyroid disease you may have an especially difficult time. Diet plays an important role in helping people with thyroid disease manage not only their weight, but also their illness. Consult your doctor or dietitian to discuss your thyroid and diet.
Thyroid and Weight
Your thyroid gland is responsible for making thyroid hormone, which is needed to regulate the metabolism of fat and carbs, as well as body temperature, blood cholesterol levels and the heart and nervous system. Too much or too little thyroid hormone -- hyperthyroidism and hypothryoidism, respectively -- can affect health and weight.
Hyperthyroidism causes weight loss and is generally treated with medication and surgery. Hypothyroidism causes weight gain, and in addition to medication, may also require a special diet to help with weight management.
Diet for Thyroid Health
A person with hypothyroidism may not see any changes on the scale until his hormones are in balance, according to a 2012 article published in Today's Dietitian. Still, making changes to your diet at the start can help your long-term health and weight-loss efforts. For thyroid health, the focus of your diet should be on lean sources of protein, fruits, vegetables, legumes, healthy fats, foods rich in omega-3 fats such as salmon and other high-fiber foods such as whole grains.
Controlling your carbs and calories is also recommended. Talk to your doctor or dietitian to help you determine your daily carb and calorie needs.
Emphasize These Nutrients
In addition to balancing your thyroid hormones, it's important that you balance your intake of certain nutrients. Iodine, for example, is essential for thyroid health, but if you get too much or not enough, it can wreak havoc on your thyroid hormone levels. Your doctor or dietitian can work with you to help identify the right balance.
Selenium is another nutrient important for thyroid health. Balance your intake by including healthy sources such as tuna, halibut, cottage cheese, brown rice and spinach.
Vitamin D and vitamin B-12 deficiencies are also prevalent among people with thyroid disease, according to Today's Dietitian. Good sources of vitamin D include salmon, egg yolks and fortified milk, and you can find vitamin B-12 in any animal food such as meat, poultry or dairy. If you're a vegetarian, you may need to supplement your diet with vitamin B-12.
Watch Out for These Foods
If you have hypothyroidism you need to be careful with the amount of soy in your diet, says the Cleveland Clinic. Soy interferes with your body's ability to absorb hormones. You may be able to eat soy foods, such as tofu, edamame or soy milk, in moderation, which is one to two servings a day.
You may also need to be careful about eating raw cruciferous vegetables, which include broccoli, cabbage and Brussels sprouts. There's a substance in these veggies called goitrin that interferes with your body's ability to make thyroid hormones. Cooking these vegetables denatures the goitrin.