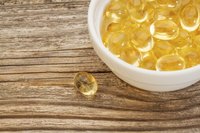 Docosahexaenoic acid, or DHA, is an omega-3 fat found in abundance in fatty fish, such as salmon and tuna. Blue fin tuna is particularly rich in DHA; it contains five times more than other types, according to the University of Maryland Medical Center. DHA is also found in fish-oil supplements, along with another omega-3 fat called EPA. DHA plays a crucial role in brain development and function, so many of its benefits are related to brain health.
Brain Health
The benefits of DHA on brain health appears to extend throughout your lifespan. A study in the "Journal of Nutrition" found a link between brain health and levels of DHA in middle-aged adults. Participants with higher blood concentrations of DHA scored better on cognitive performance tests, according to the study. The researchers found that neither EPA or ALA -- another omega-3 fat -- was related to cognitive performance. The study was published in June 2010.
Depression Improvement
Promising evidence published in the September 2013 issue of the journal "Lipids" suggests that DHA may help patients with depression. Researchers aimed to determine whether changes in omega-3 fat levels following fish oil supplementation improved depression. Blood was taken from participants at baseline and at 16 weeks to measure fatty acids. The study found that increases in blood levels of DHA led to an improvement in depression scores.
Arthritis Relief
Omega-3 fatty acids help reduce inflammation, and that appears to benefit arthritis patients. Researchers found that DHA alone -- but not a combination of DHA and EPA -- significantly reduces arthritis severity and joint damage in animal models. This data suggests that DHA may be helpful in managing inflammatory arthritis. The study was published in the December 2013 issue of the journal "Information Research."
Getting DHA
Most Americans fail to get enough omega-3 fatty acids. The amount used in most studies is 1,000 to 2,500 milligrams of DHA. The best way to get DHA is from your diet. Eating two to three servings of fatty fish each week provides about 1,500 milligrams of combined EPA and DHA per day. If you have trouble consuming adequate amounts of omega-3 fatty acids, talk to your doctor about supplementation. Fish oil supplements contain both DHA and EPA.