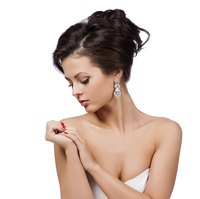 Follow a balanced diet including fruits, vegetables, whole-grains and lean protein sources, and this will give you the vitamins you need to keep your hair, skin and nails healthy. While vitamin deficiencies could cause problems with skin, hair and nails, you don't want to get too much of any vitamin. Taking high dose supplements of any one vitamin could cause toxicity symptoms. For example, excessive amounts of vitamin A can cause skin damage. Speak with your doctor before taking vitamin supplements to confirm that they're safe for you.
Vitamins for Healthy Hair
Poor nutrition can lead to hair loss or hair that is dry and breaks easily. Folate, a B vitamin, along with vitamins B-6, B-12, A and C all play roles in keeping hair healthy. You need vitamin A for forming the sebum that moisturizes hair and vitamin C for forming collagen, which gives hair its structure so that it doesn't break too easily. The B vitamins help form the red blood cells that bring blood and oxygen to hair cells so that hair doesn't grow too slowly or fall out. Although rare, a deficiency in the B vitamin biotin can cause hair loss, and a folate deficiency could change the color of hair.
Vitamins for Skin
Without getting enough vitamins A and E in your diet, your skin may become dry. Vitamin E acts as an antioxidant and helps prevent scarring and wrinkles, and the collagen made using vitamin C helps prevent sagging. A deficiency in vitamin C could cause skin that is rough, torn and easily bruised. Vitamin E may help limit damage from ultraviolet light. The B-complex vitamins also help keep skin healthy. For example, a biotin deficiency can cause a patchy red rash or dry, scaly skin. A niacin deficiency causes red skin lesions, a lack of vitamin B-6 can cause scales and cracks on your lips and the corners of your mouth, and a vitamin B-12 deficiency can cause skin to become pale. One form of niacin, called nicotinamide, may even help prevent some forms of skin cancer, according to a study presented at the 2015 American Society of Clinical Oncology annual meeting.
Vitamins for Nails
The best way to keep nails healthy is to take proper care of them. Trimming your nails regularly, not using them as tools, keeping them clean and dry, and not biting them can help them looking their best. Most vitamins won't make a difference to nail health, reports a study published in the Journal of Drugs in Dermatology in August 2007. Limited evidence, however, points to the potential benefits of biotin for thin or brittle nails. A vitamin B-12 deficiency could cause nails to be discolored.
Foods to Eat
For vitamin A, eat egg yolks, dairy products and dark green, red or orange fruits and vegetables. Niacin and vitamin B-6 are found in eggs, fish, meat, poultry, beans and fortified cereals. You can only get vitamin B-12 from animal-based foods, but folate is found in green leafy vegetables, bananas, oranges, avocado, beans and cereals. Good sources of biotin include nuts, sardines, cooked eggs, legumes, whole-grains, bananas, mushrooms and cauliflower. Citrus fruits, bell peppers, green leafy vegetables, cantaloupe, broccoli and sweet potatoes all provide vitamin C. Vegetable oils, nuts, avocados, sweet potatoes and mangoes provide vitamin E.