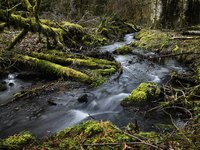 Creeks are part of the grand hydrologic cycle that funnels water between atmosphere, land and ocean. These ecosystems, often complex in structure and chemistry, support an immense array of organisms, from snails and beetle larvae to amphibians, fish and wading birds.
Definition
In North America, a "creek" usually refers to a small or mid-sized stream, although on the East Coast the term is also applied to coastal inlets, reflecting the original British meaning. Freshwater creeks derive from the confluence of smaller brooks born of springs or surface runoff.
Fast and Slow
Creeks descending through highlands are typically swift, clear, and -- because of aerating rapids -- rich in dissolved oxygen. As their gradient eases, streams tend to slow down, form low-oxygen pools and become murkier with sediment.
Current Impacts
Aquatic creatures partition themselves in creeks partly based on current dynamics. Friction slows water along the bottom and the banks, while in the center the flow hastens. Calmer waters harbor greater sediment buildup, which attracts burrowing invertebrates. Other organisms exploit stronger currents: Tadpoles of the Rocky Mountain tailed frog, for instance, have suction-like mouths to tether themselves to rocky substrate while foraging in fast-flowing streams.
The Food Web
In many fast-moving creeks, a substantial portion of energy comes from leaves and other plant material falling on the surface. These are broken down by invertebrate decomposers, which in turn are fed upon by fish, crustaceans and other creatures. Large fish, wading and diving birds and semi-aquatic mammals like mink and river otters are examples of top-level predators in many creek ecosystems.
Between Ocean and Creek
Diadromous fish--those cycling between freshwater and saltwater--form an important component of certain creek ecosystems. Some, like salmon and lampreys, live in the ocean and spawn in interior creeks. Others, like American eels, live in freshwater and spawn in the ocean.
Tidal Creeks
Tidal creeks are defined by brackish water and daily fluctuations in flow. Such waterways include short coastal streams directly draining to the sea as well as distributaries formed as a river fans out at its delta. Given the mingling of freshwater and marine nutrients and organisms, these dynamic estuarine ecosystems tend to support rich biodiversity.