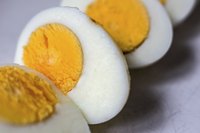 After spending nearly 40 years on the list of foods to limit, eggs are no longer a guilty pleasure, especially the hard-boiled variety. When eating a hard-boiled egg, you get all the goodness eggs have to offer, such as protein and essential vitamins and minerals, without any extra calories or unhealthy fat.
High-Quality Protein
Hard-boiled eggs provide your body with high-quality protein, which means they contain all of the essential amino acids your body needs to build and repair cells. One large hard-boiled egg contains a little more than 6 grams of protein in a 78-calorie egg.
While protein needs vary depending on age, gender and activity, the recommended dietary allowance for protein for women is 46 grams a day and for men 56 grams a day. One hard-boiled egg meets 10 percent or more of most people's protein needs.
Nutrition for Eye Health
As a source of vitamin A, hard-boiled eggs are good for eye health. One hard-boiled egg meets 5 percent of the daily value for vitamin A. This vitamin is an important component of the retina of the eye, which is needed for vision, especially at night.
In addition to helping you see, the vitamin A in hard-boiled eggs also keeps your skin and mucous membranes intact and may play a role in reproductive health.
Filled With Energy Extractors
As coenzymes, the B vitamins work together to get the energy out of the food you eat. Because they're water-soluble, these nutrients must be eaten every day in the required amounts. Hard-boiled eggs contain most of the B vitamins, including vitamin B-12 and B-6, thiamine, riboflavin, pantothenic acid and folate.
While hard-boiled eggs are not a significant source of most of these B vitamins, meeting less than 10 percent of the daily value, the egg is an excellent source of riboflavin, meeting 30 percent of the daily value. In addition to helping you get energy from food, riboflavin also supports eye and skin health and is needed to convert tryptophan, an amino acid, into niacin.
Excellent Source of Selenium
Selenium plays a critical role in reproduction, metabolism and the synthesis of your DNA. But it is also an antioxidant that protects your cells from damage by free radicals, and this may play a role in decreasing your risk of developing certain illnesses such as Alzheimer's, cancer, heart disease and even vision loss. Hard-boiled eggs are an excellent source of this important nutrient, meeting 22 percent of the daily value in one large egg.