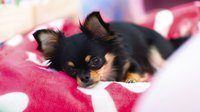 Dogs may suffer nosebleeds -- technically called epistaxis -- for a variety of reasons. Some nosebleeds arise from minor problems, such as physical trauma or an upper respiratory infection, while others hint at serious conditions, including tumors, tick-borne diseases and liver failure. You can perform basic first aid at home, but visit your veterinarian as soon as possible.
First Aid
If your dog greets you with a trickle of blood running down his nose, try to keep him calm to keep his blood pressure low. Have your dog sit or lie down and place an ice pack across his muzzle; the ice will constrict the blood vessels in his nose, which usually causes minor bleeding to stop. Dogs suffering from nosebleeds usually swallow a lot of blood, which can turn their stool or vomit dark. Although this can be upsetting to the owner, this is common after nosebleeds, and not necessarily indicative of more serious problems.
Veterinary Assistance
Once you have stopped the bleeding, take your dog to the veterinarian. Your vet will conduct a thorough history of your pet and potentially collect a blood or urine sample for further testing. Share any other symptoms your dog has been experiencing with your veterinarian to help him arrive at a diagnosis. Mention any recent activities, such as playing in a grass field or killing a rodent.