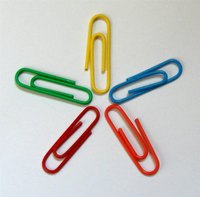 Everyone uses paper clips, from students to executives to crafters. The keep all sorts of objects organized and there's a clip suitable for every project.
Wire Paper Clips
These ubiquitous office denizens come in several sizes and are shaped like oblong spirals. They come in every imaginable color or coated with plastic but shiny silver is standard.
Binder Clips
Binder clips are plastic or metal clamps that pinch stacks of paper together. They can be used on small batches of paper, but they're usually used for large quantities of pages.
Novelty Paper Clips
Novelty paper clips come in unusual shapes like symbols or animals and are painted in complimentary colors.
Plastic Paper Clips
These colorful fasteners are usually triangular in shape and come in a number of sizes.
Translucent Vinyl Paper Clips
Translucent vinyl paper clips come in assorted colors including the standard silver. The vinyl coating doesn't leave marks on paper.
Ideal Clamps
Ideal clamps have a criss-cross design that allows larger quantities of paper to be secured. They're typically made of a thicker-gauge wire than regular wire paper clips.