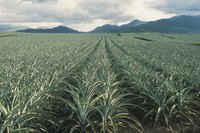 Proteases, also known as proteolytic enzymes, act to break protein down into smaller components your body can absorb. In addition to the proteases your body makes on its own, the primary food sources are papaya and pineapple fruit. Papain is the protease found in papaya and bromelain is the protease found in pineapple. Protease supplements typically contain a mixture of enzymes and are marketed for the purposes of aiding digestion, among other things. Talk to your doctor before taking dietary supplements.
Protease and Digestion
Due to its proteolytic enzymes, papaya may aid in digestion. A graduate student at the University of Illinois at Urbana-Champaign in 2011 conducted a test-tube study and found that ripe papaya acted on protein digestion and that the enzymes were active in the acidic environment of the stomach. She concluded that the combination of the proteolytic enzymes and fiber in papaya may be a potential digestive aid. Human studies showing that taking protease improves the digestion of proteins are lacking.
May Fight Constipation and Bloating
Researchers examined the effectiveness of a papaya supplement on complaints of the digestive system such as constipation and bloating in patients with irritable bowel syndrome. Participants took the supplement daily for 40 days and at the end of the trial reported significant improvements in constipation and bloating. Researchers concluded that papaya preparations may help maintain a healthy digestive tract. The study was published in the 2013 edition of the journal "Neuro Endocrinology Letters."
May Benefit Ulcerative Colitis
Because anecdotal reports show proteolytic enzymes reduce ulcerative colitis -- an inflammatory bowel condition -- researchers examined the effect on test-tube models of inflammatory bowel disease. They found that bromelain reduced several inflammatory markers in IBD, according to results published in the journal "Clinical Immunology" in 2012. Researchers concluded that bromelain may be a novel treatment for IBD. Well-designed human studies are needed to know for sure.
Side Effects and Interactions
Protease supplements may cause mild gastrointestinal symptoms, according to the Memorial Sloan-Kettering Cancer Center. These may subside as your body adjusts. Seek immediate medical attention if you experience signs of allergy, such as swelling of the face and lips and trouble breathing. Protease supplements may increase bleeding risk if you're currently taking drugs that prevent blood clots. Protease supplements inhibit a liver enzyme necessary to break down certain drugs. Talk to your doctor first if you're currently taking medication.