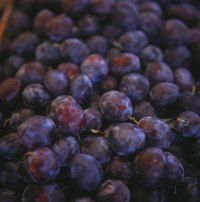 Sugar may create addiction in the same way that drugs do. For some people, this makes it difficult to cut down or quit eating sugary foods. It's crucial to tame your sweet tooth because eating too much sugar has serious health implications such as an increased risk for heart disease, weight gain, insulin resistance and fatty liver disease. Take steps to limit added sugar; seek professional help if necessary.
How it Hooks You
Scientists theorize that the preference for sweet foods might have evolved in times of food scarcity to prompt your hunter-gatherer ancestors to seek out foods high in sugar and calories to survive. Sugar stimulates the release of endorphins and dopamine, which are pleasure chemicals the brain releases as a form of reward. When the brain receives a boost of these chemicals the likelihood of repeating the behavior is increased. Sugar addiction and withdrawal symptoms have been documented in humans and animals, according to a review published in the June 2010 issue of the Journal of Psychoactive Drugs.
Sugar Withdrawal Symptoms
Intense cravings, binge-eating and the inability to regulate how much you eat, even in the face of negative consequences, are indications that you may have a sugar addiction. In clinical settings people describe experiencing withdrawal symptoms when they try to go without sugary foods. Animal data suggests sugar withdrawal can cause symptoms such as anxiety and depression, according to a clinical review published in the May, 2008 issue of the journal Neuroscience and Behavioral Reviews.
Begin Substituting
The key to tackling your sweet tooth is to take a practical approach. Start slow, recommends Kathleen DesMaisons, in her book ''The Sugar Addict's Total Recovery Program.'' Quitting cold turkey is not a successful method. Identify the sugary foods that you crave most and find nutrient dense alternatives with less sugar. If you crave ice cream, have homemade fruit ice pops made with pureed fruit and plain yogurt instead. Keep fruit available to snack on. Replace sodas and soft drinks with lower-sugar fruit juice, such as cranberry with no sugar added -- diluted with water -- tea with a low-calorie sweetener, or fizzy water with fruit slices. Replace candy bars and other candies with foods such as a handful of nuts with a few dried cranberries to feed your sweet tooth. Small changes can have big results.
Balance Your Blood Sugar
Foods high in refined sugar cause blood sugar to rise rapidly followed by a crash, as blood sugar drops below normal. When this happens a craving for sweets is triggered to bring your glucose level back to normal. DesMaisons recommends eating more fiber to help keep blood glucose balanced and to stave off sugar cravings. Fiber slows the digestion of carbohydrates, which helps prevent sugar spikes. Go for whole-grains like whole wheat bread, quinoa, whole oats and brown rice. Eating protein with meals and snacks is another way to balance blood sugar. Balance meals with protein-rich foods such as eggs, tofu, beans, lentils, tempeh, fish, lean meat, chicken and nuts. Eating frequent small meals also helps balance blood sugar.