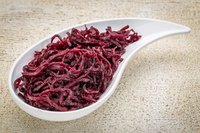 Salty and spicy dulse may be a healthy replacement for your usual salt shaker. It adds flavor to your soups and salad, and iodine too, which most people get from iodized salt. The sea vegetable also contains a variety of essential nutrients you need for good health.
Naturally High in Iodine
A 1-gram serving of dulse flakes, or 1 teaspoon, contains 167 micrograms of iodine, meeting more than 100 percent of the recommended dietary allowance of 150 micrograms a day. In your cells, iodine helps metabolize food into energy. You also need adequate amounts of iodine for thyroid health and for making thyroid hormones.
Potassium for Blood Pressure
Dulse helps boost your potassium intake, with 78 milligrams in a 1-gram serving. A diet that's high in potassium is linked to a decrease in blood pressure, according to the European Food Information Council.
Potassium counterbalances the effects of sodium on blood pressure by helping increase sodium excretion.
However, dulse is a natural source of sodium, with a small amount of 17 milligrams per gram. That is less sodium than other sea vegetables, such as kelp and alaria. For good health, and better blood pressure, you should limit your daily sodium intake to less than 2,300 milligrams a day, or less than 1,500 milligrams if you have high blood pressure, are over the age 50 or are of African American descent.
Shake Out Some Minerals
Dulse also contains iron, calcium, magnesium, phosphorus, manganese, copper, zinc and chromium. Because of the small 1-gram portion, you're not likely to meet your daily mineral needs with dulse alone, but it can help up your intake -- especially for nutrients that some groups of people, including women and children, have a hard time getting in their diet, such as calcium and iron.
Maybe Some Vitamin B-12
Vitamin B-12 is mostly found in animal foods. Dulse is considered a plant source of vitamin B-12, according to Maine Coast Sea Vegetables, but the Vegetarian Resource Group reports it's inconclusive if sea vegetables are a reliable source of the nutrient. While dulse may contain vitamin B-12, the vitamin may not be in a form usable by the body, VRG explains.