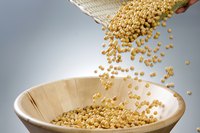 Phosphatidylserine is a compound made by the body that helps form cell membranes. According to New York University Langone Medical Center, preliminary evidence shows it may be helpful for limiting depression and declines in mental function in elderly people. Supplements are the only way to consume a therapeutic dose. PS supplements used to be made from cow brains, but with the worries about mad cow disease, these supplements are now usually made from soy or other plants, including cabbage. Unfortunately, these plant-based formulas may not be as effective as those made from animals, according to the University of Michigan Health System. Side effects of this supplement are usually limited and tend to be mild unless you have an allergy to soy, but PS may interact with some medications.
Allergic Reactions and Other Side Effects
Side effects typically only consist of mild gastrointestinal issues. PS may also have a blood-thinning effect, so you don't want to take it with any medications that act as blood thinners. Higher doses of more than 300 milligrams per day may cause upset stomach or insomnia. If you're allergic to soy, avoid PS supplements made from soy, or you may experience an allergic reaction with symptoms such as itching, rash, dizziness, nausea, vomiting, difficulty breathing, fainting or anaphylaxis. PS is not recommended for pregnant or breast-feeding women. Because supplemental PS can interact with numerous medications, such as those used for allergies, depression or Alzheimer's disease, always consult your doctor before using it.