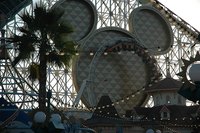 The Park Hopper is a type of admittance ticket offered at Disneyland Resort in Anaheim, California. The Park Hopper allows visitors to travel between the two theme parks on the resort, Disneyland Park and Disney's California Adventure Park, for the duration of the ticket. Ticket holders are not restricted to only one park all day.
Benefits
Both parks are within easy walking distance. "Hopping" from one to the other means guests can maximize their Disney experience.
Where to Buy
Tickets can be purchased in advance on the Internet or at the main entrance to the theme parks. Cheaper rates can be found online.
Types
Tickets are offered from 1 to 6 days in length, allowing park goers to choose one that suits the length of their vacation. Two price bands for Park Hopper tickets are for ages 3 to 9 and ages 10 and over.
Bonus Tickets
Park Hopper multi-day ticket for 3 days or more, are eligible for one early entrance to one of the parks. This is only offered on selected days. Guests must check with the resort early to plan ahead.
Tips
Each day the Hopper ticket is used represents one full day of use. Multi-day tickets expire 13 days after the first use.