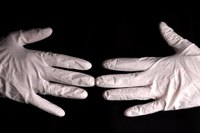 Human papillomavirus is spread through skin-to-skin contact. There are more than 100 of strains of HPV; more than 40 strains affect the genitals, according to Planned Parenthood. Symptoms of human papillomavirus include genital warts, cervical cancer, pre-malignant genital lesions, oral and upper respiratory lesions.
Significance of HPV
HPV is the most common sexually transmitted infection in the United States, according to the Centers for Disease Control and Prevention. At least half of all sexually active people will get HPV at some point.
Symptoms of HPV
Most people with HPV will have no symptoms and will experience no negative health problems from the virus. The CDC estimates that 90 percent of people get rid of the infection with no treatment after two years. Women may develop genital warts internally and be unaware of them.
Timeline and Location of HPV Warts
Genital warts can develop anywhere from six weeks to six months or more after initial infection, according to Planned Parenthood. Women can develop genital warts on the vulva, cervix or thigh, or in the vagina or anus.
Appearance of HPV in Women
Genital warts are soft, skin-colored growths that can appear as a single wart or in clusters. The warts can be raised or flat and even resemble cauliflower. The U.S. Department of Health and Human Services says the size of genital warts varies and can be so that they are unseen.
Other Growths Confused With Genital Warts
Not all growths on or around the genitals are genital warts, so it is important to see your doctor if you think you have HPV. Other causes of skin growths in this area include hemorrhoids, syphilis, skin tags, and very rarely, certain skin cancers, according to Planned Parenthood.
Treatment of Genital Warts
Genital warts are often painless, though some people may experience itching or find them unsightly and want them removed. A doctor can remove warts or give you medication to use at home.