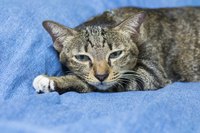 Lethargic cats often exhibit symptoms such as excessive sleepiness and reduced activity. Although cats are usually champion sleepers, lack of energy can sometimes point to health conditions such as diabetes and dehydration. Never dismiss signs of lethargy in your cat.
Feline Sleep Habits
If a cat seems unusually inactive and weak, lethargy could be the cause. If you can't tell whether your pet is lethargic or just leisurely, focus on her typical sleeping habits. Felines tend to sleep for much of their lives. Because of that, it isn't always easy to distinguish between normal sleeping and lethargy. Mature cats often sleep for anywhere between 16 and 18 hours daily. If your pet doesn't seem to react rapidly to you passing by her bed or the doorbell ringing, lethargy could be the culprit.
Typical Lethargy Signs
If your cat is lethargic, you might observe an overall behavioral shift. If she just doesn't seem like herself, she might be lethargic. Other common lethargy indications include a lack of enthusiasm, loss of interest in playtime and hiding. If you notice your pet napping in areas other than her usual spots, for example, she could be lethargic. Lethargic cats also often go out of their way to steer clear of other animals or human beings.
Potential Causes
Lethargy is a typical symptom of many diverse medical ailments. It can signify depression, diabetes, heartworm, kidney disease, dehydration, arthritis, anemia, cancer, trauma, neuromuscular disease, bladder infection, hairballs, heart disease, endocrine disorders, rabies, lung disease and asthma. Some cats feel lethargic due to drug side effects. Significant body weight is actually the most common culprit behind cat lethargy.
Lethargy is a common symptom in elderly cats who are suffering from cancer, obesity, heart disease, diabetes, feline HIV, tooth pain, orthopedic pain and osteoarthritis. It's common in younger cats who have infectious diseases such as feline immunodeficiency virus, feline leukemia virus, parvovirus and panleukopenia. It's also common in younger cats with malnutrition, parasites, extreme cases of fleas and ticks, pneumonia, congenital heart disease, anemia and fever.
Veterinary Evaluation
Take your pet to the veterinarian promptly if she seems lethargic. Your veterinarian may conduct X-rays and laboratory tests to determine the cause of the lethargy. If your vet is concerned about heart disease, she might conduct an electrocardiogram. If she thinks that the lethargy might be linked to cancer or orthopedic pain, she might perform imaging assessment techniques such as abdomen ultrasounds, chest ultrasounds, MRI evaluations and CT scans.
Treatment plans are based on the medical conditions that cause the lethargy. They're also based on the intensity of the conditions. Common forms of treatment include surgery, antibiotics and fluids.