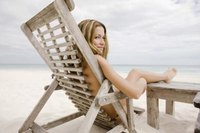 Taking a vacation is an American tradition, and there are many different vacation options available to suit everyone's tastes. Alternative lifestyle resorts offer vacations that cater to subcultures that are not considered part of mainstream American life.
Features
Alternative lifestyles may include swingers, nudists, hippies and people who practice veganism, alternative spirituality or communal living.
Nudist Resorts
If you are searching for a vacation where you can enjoy walking around in the nude, there are several nudist resorts throughout the country, with a high concentration in Florida. Some travel companies, such as Caliente, specialize in nudist vacations (see Resources).
Swingers' Resorts
There are many swingers' resorts, and alternative lifestyle travel agencies can help plan the perfect swingers vacation. Groups such as Dream Pleasure Tours and Exotic Travel Services offer travel options for swingers.
Green Vacations
Environmentally conscious tourists may opt for ecotourism as a way to explore nature while leaving a low impact on the land. Services such as Eco Tropical Resorts can help plan ecotourism trips (see Resources).
Warning
When planning an alternative lifestyle vacation, be sure to check for reviews on the travel company and resorts you choose so you will not get scammed or disappointed by your package.