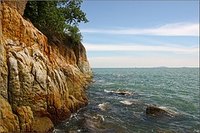 Sea lice is a term commonly used to describe Swimmer's itch (also known as sea bather's eruption or Cercarial Dermatitis). Actual sea lice are parasite bugs that affect fish and sea lice describes the name of the common skin rash from these parasites.
What is Sea Lice?
"Sea lice" are the larvae of jellyfish and other stingers. The microscopic larvae contain the same nematocysts (sting cells) as adult jellyfish and stingers.
Some larvae are large enough to be seen to the naked eye, while others can only be seen with a microscope. Almost all larvae becomes invisible in water, making it difficult to tell whether or not waters have been infested.
Symptoms
The most common symptom of sea lice is an itchy, red rash, accompanied by blisters and raised parts of the epidermis. In severe cases, symptoms range from nausea, vomiting, and fever to chills, headaches, and dizziness. A victim may develop allergic reactions that may require hospitalization in rare cases. In most cases, symptoms can take up to six to nine hours to appear after exposure.
Remedies
In mild cases, hydrocortisone creams and antibiotic creams can be applied to reduce itching, swelling and the possibility of infection. General home remedies include rinsing the skin, applying vinegar, salt or baking soda. In more severe cases, doctors may provide prescription medicines to aid the healing process.
Prevention
Avoid swimming in waters where sea lice is known to be present. Wear a wetsuit when entering infested waters. Remove swimwear promptly after leaving water, and shower thoroughly as soon as possible. Sea sting protection lotions and cremes are readily available.
Other Facts
Sea lice is more common in warm waters. The Caribbean, Gulf of Mexico, and South Pacific waters have the highest sea lice infestations. Sea lice are more common throughout the warmer months of the year (April through August). Children are more prone to severe cases.