If you're feeling a little bloated, adding more foods to your diet that act as natural diuretics may help. Don't rely on these foods in place of prescription diuretics used for treating medical conditions, such as high blood pressure or heart failure, however, as natural diuretics tend to have a much milder effect.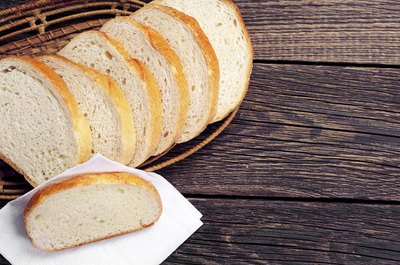 Fruits and Vegetables
Eat more celery, watercress, artichokes, asparagus and melon to help eliminate any extra water you may be retaining. Other good fruits and vegetables to eat for a mild diuretic effect include beets, pineapple, grapes, garlic, leeks, onions, green leafy vegetables, green beans and pumpkin.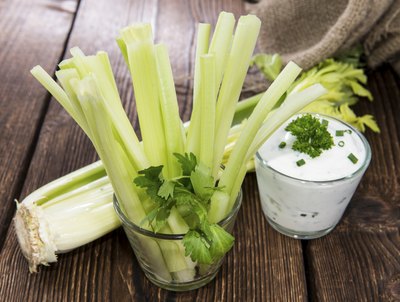 Caffeine-Containing Foods
Caffeine may have a slight diuretic effect, making chocolate, tea, coffee, energy drinks and caffeinated sodas diuretic foods. However, it appears your body can adjust to your typical caffeine intake, so regularly consuming caffeine-containing foods eventually won't have a diuretic effect. A study published in "PLOS One" in January 2014 found that men who drank a moderate amount of coffee each day weren't any more dehydrated than those who drank water instead of coffee.
Herbs and Spices
Celery seed, dandelion, parsley and juniper berries can all have a diuretic effect. However, do not take herbs in amounts larger than you would typically use in your food without first speaking with your doctor, as they can sometimes interact with medications.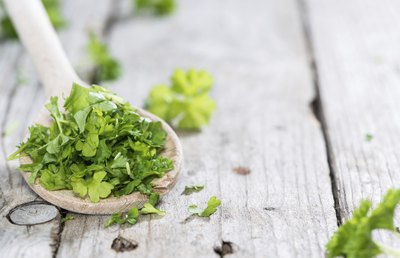 Foods to Limit
Avoid sugary or salty foods if your body is retaining too much water. Sugar can irritate your bladder, and salt causes your body to retain more water. The University of Maryland Medical Center also recommends eliminating trans fats, eating less red meat and avoiding suspected food allergens and refined foods like pasta and white bread. The center recommends avoiding alcohol as well, even though it is a diuretic.