The antibiotic clindamycin, marketed under the brand name Antirobe, is used to combat various bacterial infections in canines and felines. If your dog is diagnosed with a protozoal infection, clindamycin might be the drug of choice. Clindamycin effectively fights anaerobic bacteria, which do not require oxygen. The drug works by either killing bacteria, or stopping its growth. Clindamycin is available in tablet, liquid and injectable forms.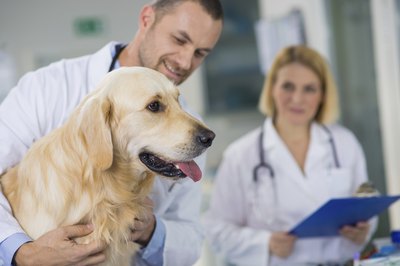 Skin Infections
If your dog suffers from a skin infection, including an abscess or other type of wound, your vet might prescribe this is broad-spectrum antibacterial. Clindamycin can fight staphylococcus in surface infections and the bacteria, such as Clostridium perfringens, that inhabit deeper wounds. If you don't see some type of improvement within three to four days after daily administration of clindamycin for your dog's skin infection, tell your vet. If there is a response, your dog might receive the medication for up to 28 days.
Oral Infections
Clindamycin is often prescribed for oral infections, whether the infection involves the teeth or the oral cavity itself. These include the gum disease periodontitis, which leads to bone and tooth loss.
Bone Infections
Clindamycin has the ability to penetrate bone, so it's often used to treat the bone or bone marrow infection osteomyelitis. It can take up to 28 days to produce results, but should not be continued beyond that time if there's no improvement.
Bacterial Pneumonia
While your vet probably won't prescribe clindamycin for a garden variety respiratory infection, she might administer the drug if your dog is diagnosed with bacterial pneumonia.
Side Effects and Contraindications
While clindamycin is usually well-tolerated, some dogs might experience side effects when taking the drug. These include vomiting, diarrhea and appetite loss. Dogs allergic to the drug might come down with hives or itching. Pregnant or lactating dogs should not receive this drug. Dogs with severe liver or kidney disease should not receive clindamycin, and if the medication is prescribed for long-term use, your vet should conduct regular blood tests to monitor your pet's kidney and liver levels. Tell your vet about all medication your dog receives, including over-the-counter supplements. Clindamycin can react with certain antibiotics. If your dog experiences any side effects while on the medication, call your vet immediately.