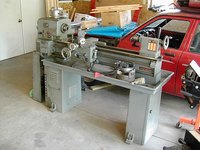 A lathe. or a lathe machine, is a device used to shape a piece of material by placing it in an axis of rotation. The unwanted material is wiped away while the desired product is crafted and kept. Woodworkers and metalworkers have used the lathe machine for thousands of years.
Ancient Times: Egypt
The lathe is of ancient origins. The earliest depiction of the device is from a wall relief in an ancient Egyptian tomb dated around 300 BC. Two people were meant to operate the ancient Egyptian lathe, with one person turning the wood piece with a rope while the other person shaped it with a sharp tool.
Ancient Times: Romans
The ancient Romans improved on the Egyptian design by adding a turning bow. They used the lathe to make wood containers and furniture parts.
Middle Ages
By the fifteenth century, places in Europe like Germany, England and France, were making good use of the lathe. By then, the device had evolved from hand-operated turning into the "spring pole" lathe, which included a pedal that moved a pole to which the piece of material was attached.
The Industrial Revolution
By the eighteenth century, some lathes were being produced using hydropower. It was not until the nineteenth century, during the Industrial Revolution, that lathes began to use mechanical power. Also, variety of work speeds was introduced.
Twentieth Century to Present
From the 1950s onward, computer systems were introduced to the lathe for better precision. The lathe has evolved to the point that today all that is required to operate one is to push a button, leaving the rest of the job to electricity.